Virtual Birthdays Party
Do not stop celebrating your child's birthday in his/her day. Here are some of our favourite virtual party ideas and online activities you can do together to help ease the quarantine blues.
They look forward to their birthday as the most important date of the year, where beyond gifts, they will receive the attention of their family, friends and schoolmates.
Fortunately, technology allows us to be present in a virtual party way so that you can have the attention and love of your loved ones.
How to celebrate a virtual party at home
A few days before you can tell him or her that they will celebrate a virtual birthday party and that it will be very special because it will be online.
Invitations
The first step for any party, of course, is to invite people.
There are a few details that need to be included in invitations, including a clear time for when invitees should plan to log in, the meeting ID/link for the party, and of course 'details about the activities you want to do. get people involved.
Themes and decorations
The night before after he or she falls asleep, decorate the house with balloons or the items you have on hand.
Every party needs balloons, it's just the rule, right? Have fun picking out different colours and consider adding patterned balloons to your design, garland would be great, but any ornament you can make with the material you have at home will surprise him or her and make that different day.
Virtual Party – What to wear
Dressing up will help make the party feel more like a special occasion for everyone, so take a break from the week-long sweats and show off some cute party attire.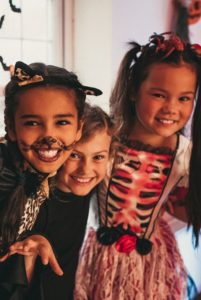 How to make a Virtual Birthday
The way in which you should organize the virtual birthday depends on the number of guests.
Whatsapp allows you to video chat with up to seven friends
The Hangouts app allows you to chat with up to 9 friends and it comes pre-installed on Android devices, it must be installed on the iPhone.
The Zoom app allows you to make video calls with up to 100 friends with a limit of 40 minutes.

Virtual Party – games and activities
Many group games are easy to play remotely too, depending on the age you can play
Another tip is to do dances that everyone knows and can do together or host a digital karaoke
If you dare, you can organize a game with all the participants reading 5 questions about what your child's favourite things are.
If the kids cheer up, you can ask the parents to rehearse a joke to tell in the chat.
To close the meeting light the candles and guide the children to start singing on the count of three
The cake can always be on the table or wherever you do the chat.
Make sure to say goodbye to the kids and thank them before closing the chat.
Then you can make a video call with the close family on WhatsApp.
It's important that several days before you test how the multiple  video chats of WhatsApp, Zoom and Hangouts work
Choose which one you think will be the most comfortable for you and your guest.
If you use Zoom share the link to access the chat as text under your invitation.
The virtual party is great in that it has the same ingredients as a face-to-face meeting that makes it enjoyable too. It has the emotion of the meeting, a special cake, a personalized video, a nice gift and share with those we love.
Shop at
Maria's Parties
 – Online Party Supplies, we have everything you need at great prices.
I hope these ideas are useful to you and I hope that you do not stop celebrating that special day
[/fusion_text][/fusion_builder_column][/fusion_builder_row][/fusion_builder_container]